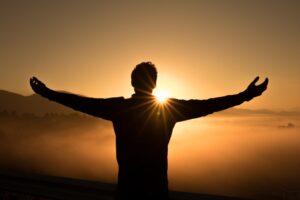 The beginning of a new year offers hope for change and a fresh start.
We are all so ready to wave the global challenges of last year good-bye and yearn for a sense of relief. 
For many 2020 has been traumatic, and our world has been turned upside down. 
Some of you experienced loss. 
All of us experienced different levels of anxiety, uncertainty, challenges and disappointment. 
Some of you may have reinvented yourself, took the opportunity for
personal development and went through a big shift.

Wherever you are and whatever you experienced, know that I see you, I hear you
Instead of making New Year's resolutions, I invite you to consider what it is that you
would like to call into your life? 
Allow yourself some time in quiet contemplation to let answers reveal themselves to you. 
Focus on your heart center and take some deep, long breaths to calm the mind. 
From that place of contemplation, set your intentions. 
Now take your intentions and write them down on the left side of a piece of paper or your journal. 
One by one, note what kind of repeated behavior could help you to achieve your goals. 
For example, if you wish to reduce stress and feel inner peace, a daily habit of
every morning may help you to start the day centered and calm.
Keeping a daily gratitude journal, meditation and yoga practice, setting aside time
for a healing bath, 
taking walks in nature, learning something new, etc. can all be
great examples to create more balance in your life.
The key to sticking to these habits, is to actually put them in your calendar. 
Allowing these lovely rituals that are aligned to your intentions, is a comforting way
to follow through with them for as long as you wish.

Do you have doubts about what you wish to call in? 
Do you feel any resistance to give it a try?

Allow me to guide you on setting deliberate intentions. 
Together we will create meaningful rituals to support you in calling in your heart's desires. 
Make your appointment with me today so I can support you on your journey
of transformation and healing!
Wishing you a year filled with optimal health, love, happiness and prosperity!
I look forward to hearing from you!
Sending you many blessings from my heart to yours,
Tanja